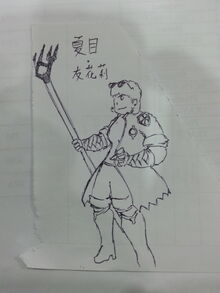 Latest Status
Edit
L49 PUELLA MAGI
HP: 100/100
Corruption: 0/3270
Current action: [PERSUADE (PURCHASE) MASTER]
Status condition/s: N/A
Description
Edit
A young woman in Nishigawa, she gardens, runs a small vegan cafe that caters to the local factory workers, and a PUELLA MAGI. She lives in a small lot with her best friend and long-time partner, KURAMOCHI NISHI, and is one of the most senior members of the NISHIGAWA HAPPY FAIRIES.
FIVE-TINED RAKE: A rake with five tines. Deals 20 - 40 physical damage.
[THE WINDS]: Within a given area, NATSUME YUKARI can change the weather at will.
[THE WAVES]: NATSUME YUKARI can simulate weather effects.
NATSUME YUKARI is a gardener and the owner of a small vegan cafe, SMILING TOMATO, in Nishigawa, and has been a PUELLA MAGI since late 2009, when she learned about the existence of Witches and Puellae Magi.
Between 2002 - 2007, NATSUME YUKARI was enrolled in MITAKIHARA MIDDLE SCHOOL, where she met KURAMOCHI NISHI in the Gardening Club. The two formed fast friends, and raised the Gardening Club to new heights during their tenure as President and Vice-President between 2005 - 2007. After graduation, she moved to Nishigawa with NATSUME MASAMI and KURAMOCHI NISHI.
Between 1997 - 2002, NATSUME YUKARI was enrolled in MITAKIHARA PRIMARY SCHOOL, but had an uneventful life. During this time, she was introduced to gardening by NATSUME MASAMI.
Relationships
Edit